News
Match Reports:
U16 St.Brendan's Vs Cushendall
29 July 2010
Second Half Sortie by Saints Wins the Semi U16 'A' Shield – Semi Final St Brendan's 3:11 Ruairi Ogs 2:06 A week after knocking St Endas out of the Shield in the Quarter Fina ...
more
Pictures of the JHC match V Larne are now in the gallery.    Thanks again to Anne Blaney for givign up time to take the photos and send them in ...
more
Match Reports:
Armoy match report
28 April 2010
The Armoy match report has been attached to the fixture. Just click on the fixture tab on the left and the most recent fixture should be displayed, to the right of this there should be a small link say ...
more
Gallery:
u10's visit croke park
27 April 2010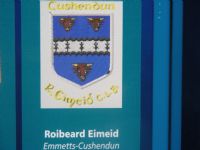 The gallery has been updated with some photos of the recent u10 visit to croke park   Follow the link for more photoes ...
more
Match Reports:
N.A Junior League - Cushendun Vs Eoghan Rua (Coleraine)
27 April 2010
After disappointment at the match on sunday, Cushendun were determined for a win. Donnagh McMahon i.e."Me"started the scoring with two points in the 5th & 7th minute. Paddy McSparran ...
more
Match Reports:
Div 3 A.C. League Cushendun Vs Glenarm
21 April 2010
Nerves were running high for both teams as the ball was thrown in for Cushenduns first match of the divishion 3 league. Eoin McQuillan Broke the ice with a point in the 7th minute. Kevin Campbell equil ...
more
Match Reports:
N.A Junior League - Cushendun Vs Larne
20 April 2010
After A draw with Carey the previous week and A good track record against Larne, Cushendun despite having trouble finding the pitch appeared with a great deal of confidence. Perhaps a little too much. ...
more
Match Reports:
N.A Junior League - Cushendun Vs Carey
13 April 2010
Cushenduns first junior match of the year against carey faughs went very well. Carey got an early point in the 2nd minute but was shortly equalised by me, scoring a point in the 3rd min. With brilliant ...
more
Match Reports:
St Brendans U-16
12 April 2010
St brendans u16s win their first league match agaist Glenshesk.   Score at half time was 3.5 too 0.0 Full time score was 5.12 too 0.5 Team was: 1) Michael Mc Hugh (c'dun) 2) Conor M ...
more
Match Reports:
Ulster league - Cushendun Vs Eoghan Ruadh
10 April 2010
Our first win of the season, and what a win it was. 2 points within the first 5 mins coming from Oisin & Eoin, followed by a point from Brendan McSparran from a 70 and Ryan millar in the 13th m ...
more