News
The Lottery 'Hard Luck' Prize will be increased from £50 to £300 this week. The draw will take place on Boxing Night. If the £2100 Jackpot Prize is won, there will be n ...
more
AGM 2017:
AGM 2017 Sunday 26th November
17 November 2017
AGM 2017 Sunday 26th November 3.30 pm Proposals/Motions All positions within the committee are available and new faces are most welcome. We will be accepting nominations from the floor at the ...
more
SAFFRON AID:
Saffron Aid 2017
04 November 2017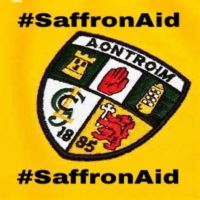 Saffron Aid Robert Emmets, Cushendunhas joined with many of the Official Antrim GAA clubs to support the Saffron Aid Christmas Shoebox Appeal. We would ask all our members to help us make a great c ...
more
Gala Ball 2017:
Gala Programme
03 October 2017
Attached is the programme for the Gala Evening ...
more
Gala Ball 2017:
Photos on Saffron Gael
03 October 2017
https://thesaffrongael.com/2017/10/02/cushendun-emmets-gala-dinner/ If you do download a photo, please make a contribution through Curly's PayPal account. ...
more
Gala BallGala Ball:
Gala Ball
29 September 2017
Ok...So just a few days out from the Big night.Excitement is building all around the Parish. The Marquee is up and it will spend the next few days g ...
more
Minor Final 2017:
Naomh Padraig V Dunloy
22 September 2017
The committee and members of Robert Emmets wish the very best of Good Luck to the Naomh Padraig minors in the All County Final against Dunloy on Sunday. ...
more
2017 season:
Season Roundup
18 September 2017
Season Roundup Our 2017 season was completed yesterday with an away match against Rasharkin. Although we won the match which turned out to be a tougher test than we expected , we suffered some collate ...
more
Football Final Tickets:
Draw for AI Football Tickets
08 September 2017
Any members who would like to enter the draw for the opportunity to purchase All Ireland Football Tickets,please give your name to Paul Mc Sparran before 7.00 on Sunday as the Draw will take place in c ...
more