News
Antrim U14:
Tony Forrester tournament
28 August 2013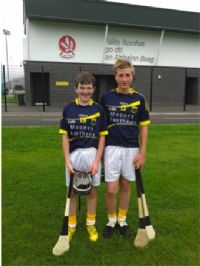 Congratulations to David Kilgore and Conor McHugh on being selected for the Antrim u14 squad to play in Waterford this weekend. Good luck guys! ...
more
All Ireland Hurling Final Tickets:
All Ireland Senior Hurling FinalTickets
26 August 2013
Any fully paid up member wishing to be entered into the draw for the All Ireland Senior Hurling Final Tickets should contact Paul McSparran or Sean McKendry before Sunday 1st September. The ti ...
more
Follow us now on twitter, @cushendun_GAC ...
more
Fixtures:
Div 3 ACHL 2013
17 March 2013
See attached fixtures for Div 3 ACHL Senior, 2013 ...
more
Forthcoming Events:
County Minors
08 March 2013
Well done to Donal O' Hara and Don Whelan, who are selected for the Antrim Minor Panel to play Meath on Saturday 9th March in Casement at 2.30pm! good luck lads ...
more
Coaching:
Hurling Workshop by Gregory O' Kane
16 February 2013
A Cairde    There is a hurling workshop with Gregory O Kane on Thursday 21st Feb 2013 starting at 7.30pm (and will finish 8.40 appx ) Venue is St Marys/Clooney Ga ...
more
Development squad:
u-14 Development Squad
16 February 2013
u-14 Development Squad  Training at UUJ on Mon  18th Feb  & Mon  25th Feb . Starting at 6.45pm,  /  It is indoor  Con ...
more
Forthcoming Events:
Parents meeting
20 January 2013
There will be another parents meeting on Tuesday 29th January at 7.00pm in the pavillion ...
more
See attached Agenda for Committee Meeting 5th January, 19.30 @Pavilion ...
more
Our AGM was held on FRIDAY 30th NOVEMBER 8.00pm in the club rooms. A very disappointing 13 people were in attendance. The following people took up the respective posts as shown: ...
more