News
Forthcoming Events:
Festival Wek 2015
07 July 2015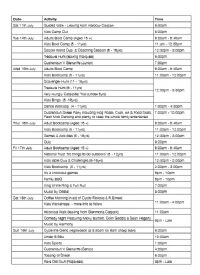 Our Festival week runs from the 11th to the 19th July, see attached for more details ...
more
For the first time, we are going to host a Cul Camp for 6-13 years old, from 10th to 14th August. This will be run at the hurling field from 10.00am until 1.30pm.  Anyone wishing to regi ...
more
North Antrim Junior League Match 2nd June V Ruari og at the field 7.30pm ACHL Div 2 match V Ballygalget Sunday 7th June 1.00PM at the field ...
more
B match V Armoy saturday 9th May 5.30pm in Armoy  ...
more
Forthcoming Events:
committee meeting
01 May 2015
Meeting at 7:00pm Sat 2nd May- ...
more
Naomh Padraig:
launch evening
01 May 2015
official launch of Naomh Padraig tonight in Armoy. starts 6.30 pm  Everyone welcome  ...
more
Naomh Padraig:
U16 Represent Antrim
26 April 2015
James Morgan, Conor Mc hugh and David kilgore travelled to Belfast on Saturday 25th April to play against Kilkenny and Dublin, see the gallery for photos of the boys and the team. Well done to all 3 an ...
more
Fixtures:
nort antrim junior league
23 April 2015
B Match in Ballymena tonight 6.45pm  ...
more
Child Protection:
New Child Protection Guidelines
16 April 2015
IMPORTANT INFORMATION   A chara,   You may be aware, the AccessNI vetting process is changing from 1st April 2015 in line with the Justice Bill 2014. ...
more
Forthcoming Events:
Fixtures 2015
16 April 2015
Find attached fixtures for 2015 ...
more