News
Sponsorship:
Renewed Sponsorship
25 May 2014
Robert Emmets would like to thank Wilsons of Rathkenny for their continued support in sponsoring the club this year, this is the 17th year in a row & we are extremely grateful to have them on b ...
more
Fixtures:
Match Time Changed
09 May 2014
**** Note change of time for this weekends senior match - Throw in is now ay 6:30pm in Glenariffe ...
more
Fixtures:
Match Easter Sunday
18 April 2014
Senior Match in ACHL this Sunday is an away fixture V Clooney Gaels ...
more
Fixtures:
North Antrim league 2014
16 February 2014
North antrim League Fixtures are out, see attached first match Sunday 23rd February against Glenravel All matches are on Sunday 2pm ...
more
Lotto:
Committee meeting 2014
05 January 2014
The first meeting for the newly elected Committee was held on Saturday 4th January 2014. It was very well attended and long may it continue. Next Committee Meeting is on the first Saturday of February ...
more
1963 Team:
Commemorating the 1963 Junior Hurling Champions
03 December 2013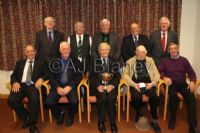 FIFTY YEARS on.  Some of the 'Golden Oldie' survivors of the Cushendun Emmet 1963 Antrim Junior Hurling Championship-winning team are honoured during the Club's Annual awards dinner, held i ...
more
The Dinner Dance was held on Friday 22nd November in Cushendall Golf Club. The 1963 JUnior championship winning team were guests of honour on the night. The award winners were ...
more
Attention all 2013 Robert Emmets Members, the AGM will be on Friday 27th December in the Pavilion at 7pm. Membership for 2014 can also be paid at this meeting. The following Positions are up for ...
more
Match Reports:
Emmets win Division 3 ACHL
06 October 2013
Well done to all the players and management on capturing the ACHL Division 3 title today at home V St Enda's From the outset, the Green & Black army stamped their authority on the match, ...
more
Fixtures:
Final league match
01 October 2013
We play st Edna's this Sunday 6th October at home, 2.30pm, in the final match of the Div 3 league. ...
more