News
Attention all 2013 Robert Emmets Members, the AGM will be on Friday 27th December in the Pavilion at 7pm. Membership for 2014 can also be paid at this meeting. The following Positions are up for ...
more
Match Reports:
Emmets win Division 3 ACHL
06 October 2013
Well done to all the players and management on capturing the ACHL Division 3 title today at home V St Enda's From the outset, the Green & Black army stamped their authority on the match, ...
more
Fixtures:
Final league match
01 October 2013
We play st Edna's this Sunday 6th October at home, 2.30pm, in the final match of the Div 3 league. ...
more
All Ireland Hurling Final Tickets:
Draw
04 September 2013
The draw for the tickets will take place in Mary's tonight at 9.30pm. Anybody who is interested but has not forwarded their names as yet should be there at 9.25pm. ...
more
Antrim U14:
Tony Forrester tournament
28 August 2013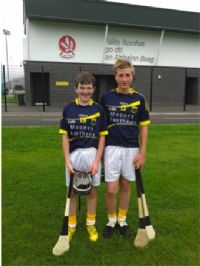 Congratulations to David Kilgore and Conor McHugh on being selected for the Antrim u14 squad to play in Waterford this weekend. Good luck guys! ...
more
All Ireland Hurling Final Tickets:
All Ireland Senior Hurling FinalTickets
26 August 2013
Any fully paid up member wishing to be entered into the draw for the All Ireland Senior Hurling Final Tickets should contact Paul McSparran or Sean McKendry before Sunday 1st September. The ti ...
more
Follow us now on twitter, @cushendun_GAC ...
more
Fixtures:
Div 3 ACHL 2013
17 March 2013
See attached fixtures for Div 3 ACHL Senior, 2013 ...
more
Forthcoming Events:
County Minors
08 March 2013
Well done to Donal O' Hara and Don Whelan, who are selected for the Antrim Minor Panel to play Meath on Saturday 9th March in Casement at 2.30pm! good luck lads ...
more
Coaching:
Hurling Workshop by Gregory O' Kane
16 February 2013
A Cairde    There is a hurling workshop with Gregory O Kane on Thursday 21st Feb 2013 starting at 7.30pm (and will finish 8.40 appx ) Venue is St Marys/Clooney Ga ...
more