News
Match Reports:
Ulster league - Cushendun V Carey
13 March 2010
A dissapointing result for cushendun, however the score didn't reflect the play. A source from carey explained that it wsnt easy to beat cushendun and had to realy dig in to get they're scores and asid ...
more
Could all players (who have not already done so) please give their membership and dates of birth to the PRO ASAP or they will NOT BE INSURED. ...
more
Old Videos/DVD's:
Old photos
04 March 2010
One of our sers has kindly sent in some old photes from the 80's and 90's.  See the Gallery section.   We are keen to build up the history on the site so if you have any old ...
more
Match Reports:
U12 Indoor Final
03 February 2010
A video of the U12 indoor final is now in the Video Gallery section. ...
more
Match Reports:
Final Heartbreak For Under 12's
25 January 2010
Our under 12's finally succumbed to the challenge of Glenshesk by the narrowest of margins in Saturday's division 2 final, played before a large and noisy crowd in Ballymena which include ...
more
Match Reports:
Under 12's narrowly miss out on Div 4 final
21 January 2010
Our 2nd squad of under 12s narrowly missed out on qualification to the finals of division 4 despite some tremendous performances from all involved. Having beaten Glenshesk and Glenravel in week 1 to qu ...
more
Match Reports:
U12's Make Indoor League Final
18 January 2010
UNDER 12'S MAKE FINAL Cushendun under 12's made it through to the Division 2 indoor hurling final yesterday, after putting together a string of terrific performances in Ballymoney. A tense ...
more
Match Reports:
U12's beat the big freeze
12 January 2010
Two teams have been entered in the North Antrim U-12 indoor competition this year (no shortage of numbers or commitment from both players and mentors). Conor Mc Neil and Mark Scally took our first ...
more
Match Reports:
U12's are Sky High
14 December 2009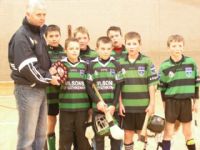 Under 12's lift inaugural Airborne title Our under 12's today lifted the inaugural under 12 airborne indoor hurling title in Ballycastle. We had qualified for the final by competing in a qu ...
more
One of our members has sent in a suggested design for new jerseys.  Check out the gallery and let us know what you think of them by posting on the guestbook ...
more