News
Old Videos/DVD's:
Nostalgic?
11 November 2009
The club is currently trying to pull together a collection of old vides of matches with a view to converting these onto DVD's before technology beats us and these old archives are lost forever. ...
more
Match Reports:
U-10's record another victory
06 October 2009
Congratulations once again to our U-10 panel who defeated  Owen Roe on saturday. In a game played in very windy conditions in Cushendun our players took the wind advantage after winning the to ...
more
Cushendun lost the JHC final against Rasharkin on Friday night at Casement Park on a scoreline of 1-14 to 2-6.   Cushendun got off to a good start but were unable to capital ...
more
Match Reports:
U10 Championship
15 September 2009
On Saturday 12th September Cushendun Emmets took part in the NA U10 Championship in Carey.A fine display of hurling and skill was shown by our boys.James Morgan in goals , in three games kept a clean s ...
more
If you are interested in joining the standing order scheme for the club lotto or joining Gaelic Telecom, check out the Administration section for further details ...
more
Gallery:
Photos of match v Creggan
02 September 2009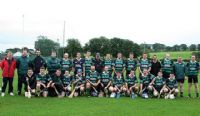 Check out the gallery section for some photos of the JHC win over Creggan.  Thanks to John McIlwaine for providing these ...
more
Match Reports:
Cushendun V Creggan, JHC Semi Final
30 August 2009
Cushendun 2-20 Creggan 1-7   Cushendun advance to the final of the Junior Hurling Championship after an impressive victory over Kickhams Creggan at a windswept Armoy. Despite the fin ...
more
Match Reports:
Carey V Cushendun
26 August 2009
Cushendun were possibly keeping one eye on the up and comong JHC semi final on Sunday, but that may be a dis-service to Carey who asserted themselves at half time and came out a different team in t ...
more
Match Reports:
Cushendun V Cloughmills JHC (sent in from anonymous)
15 August 2009
Cloughmills Defeated! Cushendun Emmets overcame a stubborn challenge from Cloughmills in the Junior Championship quarter-final on Friday night. Despite the bad weather, both teams settled into t ...
more
Match Reports:
Cushendun V Cloughmills
14 August 2009
In what was played in very wintry conditions the mighty Emmets overcame the spirited Cloughmills side and advance to the semi-final of the Junior Hurling Championship. Cloughmills got off ...
more