News
**** CLUB LOTTO UPDATE***** The club Lotto will resume this week. The first draw following Lockdown will take place on  Sunday night 28th June at 8.00. ...
more
COVID -!(:
Re Opening of Facilities
22 June 2020
GOOD NEWS Looks like we will be back in business on Wednesday. To ensure the safe return to games and reopening of facilities, all Players, Coaches and Officials within the club are required to c ...
more
CLUB LOTTO Due to the ongoing Covid-19 virus situation , the weekly club LOTTO is suspended until further notice. We will make arrangements regarding people who play LOTTO by standing order when we r ...
more
...
more
Fixtures 2020:
ACHL DIV3 Fixtures 2020
04 February 2020
First tranche of fixtures are below for the incoming season. Championship draw and dates will be posted when available. ...
more
Latest news:
Alastair Magee R.I.P
02 December 2019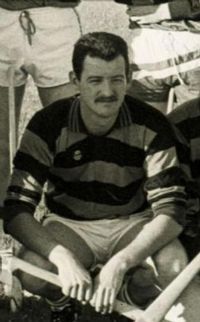 Alastair "Ally V'Ali" Magee 23.02.1967 – 02.12.2019 Although we knew he was struggling with his illness, the news of Alastair's sudden passing sent shockwaves throug ...
more
Danny Mc Quillan R.I.P:
Danny Mc Quillan R.I.P
27 November 2019
Danny mc Quillan R.I.P The members of the club are deeply saddened to learn of the passing of Danny .A club stalwart if ever there was one. Danny has perhaps been one of the longest standing members ...
more
The Annual General Meeting of Cushendun GAC will take place on Sunday 24th November 2019 at 3.00 pm in the Clubrooms. All current as well as new members are asked to attend.Election of officers ...
more
Annual Awards 2019:
Annual awards
15 November 2019
The Annual Awards were presented recently following a dinner held in Mc Brides. There was a good turnout of players and committee members to celebrate the season that has just passed. North Antrim Chai ...
more