News
AI tickets:
Draw for All Ireland Final Tickets
14 August 2017
any fully paid up member who wants their name entered in the draw for the opportunity to buy tickets,please give your name directly to Paul Mc Sparran.The draw will take place a couple of days before t ...
more
JHC 2017:
Gort Progress Following Nailbiter in Whitehill
06 August 2017
The silence was deafening and the feeling of disappointment was palpable in the Cushendun dressing room following defeat by the narrowest margin against Gort Na Mona in the Junior Championsh ...
more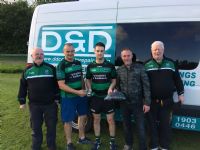 Senior Team Captain  Mark Scally and Kit Man John O Hara take receipt of our new 2017 senior Kit. Thanks to Dominic and Daniel from D & D for kindly sponsoring the new shorts and socks ...
more
Ulster Minor hurling Championship 2017:
Captain Conor leads saffrons to victory
10 July 2017
Conor Mc Hugh proudly holds aloft the Danny Mc Naughton Cup after the saffrons defeated Derry in the Ulster Minor Championship yesterday in Owenbeg. Conor ,who has represented the County at almost all ...
more
Ulster Minor Hurling Final:
Conor Mc Hugh
06 July 2017
Good luck to Conor Mc Hugh (smilie) on Sunday when he will be leading out the Antrim Minor Team against Derry in the Ulster Final. Also I suppose his father ,Aidan must get a mention too as he is on th ...
more
Important Announcement:
Ticket Sales
23 June 2017
The Gala Ball has certainly created a lot of interest around the parish. We have been swamped with individual requests for tickets and table bookings. We are now requiring that anyone who has " bo ...
more
Gala Ball:
Tickets now on Sale
09 June 2017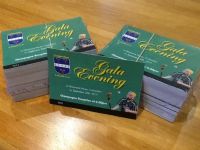 Gala Evening. 30th September in Marquee @ Glenmona House. tickets are now available cost £60 per person. we strongly recommend early booking / payment as we are now certain that this event ...
more
Old Bikes:
Bikes for Madagascar Appeal
17 May 2017
Cushendall Cyclist, David Mc Auley ,is once again, asking for donations of Old,unwanted or even broken bikes that you may have lying about the house. The bikes will be serviced and or repaired before b ...
more
Gala Ball 2017:
Gala Ball
12 May 2017
30thSeptember 2017 A Gala Ball will be held in grounds of Glenmona on this date.We anticipate this to be a special occasion which will live long in the memories of those who attend,just like the Cente ...
more
St Ciarans Primary School:
Mind and Body Bootcamp
24 April 2017
St. Ciaran's primary school are running a six week healthy mind and body Bootcamp beginning on Thursday 4th May.Places are limited and booking is preferred. Full details can be found on the St Ciarans ...
more