News
Fixtures:
nort antrim junior league
Thursday, April 23, 2015
B Match in Ballymena tonight 6.45pm  ...
more
Child Protection:
New Child Protection Guidelines
Thursday, April 16, 2015
IMPORTANT INFORMATION   A chara,   You may be aware, the AccessNI vetting process is changing from 1st April 2015 in line with the Justice Bill 2014. ...
more
Forthcoming Events:
Fixtures 2015
Thursday, April 16, 2015
Find attached fixtures for 2015 ...
more
Forthcoming Events:
Garron Tower
Wednesday, April 1, 2015
Best of luck to David kilgore, James Morgan and Leo morgan in the schools final today  ...
more
Congratulations to Harriet McKay and Sarah McNeill who both won £100 in the Club Draw. Thank you to all who supported the draw. ...
more
Naomh Padraig:
Latest Update
Monday, January 26, 2015
As you hopefully are aware by now, we have joined up with Carey Faughs and Armoy Rovers at underage level. This covers U8 right up to U18 with the option of U21. The new club is called Naomh Padraig (N ...
more
Lotto:
Paddy Hamilton Memorial Trophy
Sunday, January 4, 2015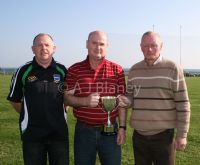 The Paddy Hamilton Memorial trophy was recently presented to U16 hurler Harry Kilgore for being the best juvenile hurler for 2014   The trophy is a memorial to Paddy Hamilton who was part ...
more
Coaching:
Upcoming Amalgamation
Tuesday, November 18, 2014
Great progress being made on our juvenile amalgamation with Carey & Armoy. Keep an eye on the website here & Facebook page for more info coming soon.  ...
more
Tuesday, October 28, 2014
If anyone is interesting in getting involved in coaching in the club from U12 - minor can you please contact Rab before 7th November.   Remember the club relies on people volunteering their ti ...
more
Coaching:
Coaching Course
Tuesday, October 28, 2014
I would appreciate it if you would promote the upcoming Award Two Youth & Adult Hurling Coaching Course in your county.   The cost of the course will ...
more